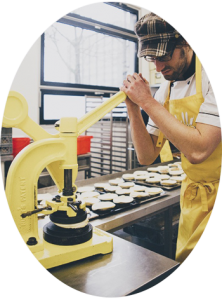 HelloGoodPie was founded in Berlin in April 2013 by Matthew Minch, an Irish native of German and Irish parentage.  Matthew completed a degree in Business Studies before realising that his interests lay in the world of food, as opposed to the world of finance. He enrolled at a catering school and began his epicurean journey.
Directly after finishing catering school, Matthew travelled around the globe, exploring an exciting range of new foods but paying special attention to the pie cultures he experienced in Australia, New Zealand and the UK.
He soon decided to settle in Berlin, bringing his passion for great food with him and bestowing the gift of the almighty pie on the German people.
Peter Olubodun (the man behind the cakes and sweet pies) is a law graduate of Kings College London, who worked as a corporate lawyer for 10 years for a number of top London City law firms. After deciding that the legal profession was no longer for him, Peter moved back to Berlin, where he had done an Erasmus year as a student and jobbed as freelance legal translator and ran a Crêperie in Friedrichshain. After meeting Matthew in 2014 he decided to join Hellogoodpie as a partner and was instrumental in expanding the business and helping to set it on a solid foundation.
Goodbye bad food, helloGoodPie!